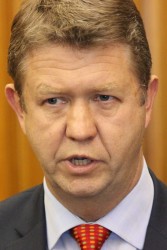 11 Aug 16 - A lawyer who advised a carbon-farming company that was later prosecuted by the Overseas Investment Office is under investigation over the affair.
10 Aug 16 - European officials are moving to close a loophole that promotes the burning of wood for electricity by an industry that's felling American trees, and a new report they commissioned has laid bare the urgent need for reform.

1 Aug 16 - New Zealand's experiment with free-market forestry has left it without the forests needed to combat climate change and supply the domestic market with wood, the industry says.

25 Jul 16 - Details of a study showing that forestry can be as profitable as dairying have been made public.
25 Jul 16 - Forests planted under the revived Afforestation Grant Scheme this year are expected to store 1.3 million tonnes of carbon.
18 Jul 16 - Forests straddling the equator are critical to a stable climate because they store vast amounts of carbon, and a new study finds that five developed countries are spending billions of dollars to keep those forests intact.
12 Jul 16 - New Zealand will not get forestry investment on the scale needed to tackle climate change unless it cuts risk associated with the carbon market, says a company that planted 6500 hectares of carbon forests in the heyday of the Emissions Trading Scheme.
---
20 Jun 16 - Information about the environmental and social performance of New Zealand's plantation forests – including their ability to sequester carbon from the atmosphere – is now available online.
31 May 16 - Norway has become the first country in the world to commit to zero deforestation.
31 May 16 - Nearly one quarter of China will be covered in forest by 2020 if the country implements its "eco-civilization" project.
30 May 16 - Phasing out the one-for-two carbon subsidy is a step in the right direction, but more needs to be done to get the Emissions Trading Scheme working - including bringing agriculture in - says the Wood...
6 May 16 - Gun-shy forest investors are watching with interest as carbon creeps up to the magic $15 mark, but they'll need at least another $3 a tonne to make up for the political risk of investing in carbon...
28 Apr 16 - Applications for the second round of the Government's Afforestation Grants Scheme are open.
26 Apr 16 - Forest owners are welcoming a report recommending doubling the area of planted forest in New Zealand.
21 Apr 16 - An Australian carbon farming company that used a New Zealander to buy land has been fined $40,000.
15 Apr 16 - Carbon prices will need to hit $35 a tonne by 2017 or forest owners will quit the Emissions Trading Scheme, leaving New Zealand unable to meet its emissions reductions targets, an expert is warning.
15 Apr 16 - Norway's $700 billion sovereign wealth fund, the largest in the world, has dropped 11 companies for their connections to deforestation.
1 Apr 16 - New Zealand is paying a high cost in carbon for neglecting its native forests, says a carbon sequestration expert.
21 Mar 16 - Forests play a vital role in the economy and the environment, the Government is reminding New Zealanders.
---