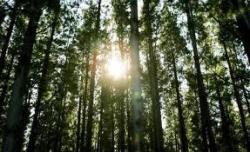 Thursday - New Zealand is finally moving to recognise carbon stored in wood products – two years after it could have done so.

11 Apr 14 - By TIM RADFORD.- US scientists have a new green solution to urban construction: chop down trees and use the wood for buildings.

28 Mar 14 - A LEADING forestry services executive is calling on the Government to set a target range for carbon prices.

28 Mar 14 - INTERNATIONAL carbon traders say there is little incentive for the private sector to get involved in carbon-sequestering forestry projects.

21 Mar 14 - National could feel at the ballot box its failure to take action on carbon prices and lack of vision on forestry.

21 Mar 14 - Only a quarter of post-1989 forest owners registered in the Emissions Trading Scheme have submitted their 2013 emissions returns.

21 Mar 14 - The Green Party in Government will put $1 million toward the cost of the first 10-storey or higher New Zealand building made with structural timber, co-leader Dr Russel Norman said this week.
---
14 Mar 14 - By PAUL BROWN.- Every energy expert and scientist would agree that one of the cheapest and quickest ways to cut fossil fuel use and stave off dangerous climate change is better insulation of homes,...
7 Mar 14 - The Prime Minister says he accepts that 50,000 new jobs would be created by Maori following through on a promise to plant one million hectares of new forest if the Government lifts carbon prices.
7 Mar 14 - The Government is refusing to adopt a national forestry policy, despite relying on tree planting to meet international greenhouse gas emissions reductions obligations.
7 Mar 14 - The Labour Party is about to announce a policy using forestry to provide jobs and environmental services.
28 Feb 14 - Planting just over half of New Zealand's marginal land in forest would make the country carbon-neutral – and the Government knows it.
28 Feb 14 - The wood sector is gearing up to join Maori in making carbon prices an election issue.
14 Feb 14 - A proposal by iwi to plant a million hectares of new forest over 10 years could provide the economies of scale needed to kick the New Zealand industry into large-scale processing.
14 Feb 14 - The destruction of hundreds of thousands of tree seedlings is part of a "market correction" and not due to a dysfunctional Emissions Trading Scheme, the Government says.
31 Jan 14 - New Zealanders are willing to pay cold hard cash for the ecosystem services provided by plantation forests.
24 Jan 14 - The number of post-1989 forest owners quitting the Emissions Trading Scheme quadrupled last year on the back of cheap carbon prices.
20 Dec 13 - Deforesation and a lack of new planting means New Zealand is unlikely to meet its 2030 emissions reduction target, a forestry expert is warning.
20 Dec 13 - Government officials are reviewing just how much carbon is stored in our native forests.
---