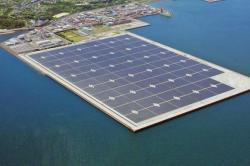 Tuesday - Two companies in Japan recently announced that they are to begin building two huge solar power islands that will float on reservoirs.

Tuesday - Australian scientists have successfully replicated one of the crucial steps in photosynthesis, opening the way for biological systems powered by sunlight which could manufacture hydrogen as a fuel.

Tuesday - With the failure of international agreements to fight climate change, the way is open to viewing the role of renewables as more than agents for reducing carbon emissions. Indeed, is it possible for countries to build their manufacturing industries, enhance their energy security — and contribute to reducing carbon emissions?

Tuesday - The vast quantities of water needed to release oil and gas by fracturing rock formations are not available in large areas with the richest deposits – posing major challenges to the future viability of fracking.

8 Sep 14 - Renewable energy sectors are joining forces to promote New Zealand's clean-energy credentials as a new international industry.

8 Sep 14 - There are still doubts. The statistics might be proved wrong. But it looks as if China might be starting to wean itself off its coal consumption habit.

8 Sep 14 - There are prospects of significant progress in the response of world governments to climate change, according to a former British Government chief scientist, Sir David King.
---
8 Sep 14 - Converting renewable energy into electricity is one thing; converting it into fuel is quite another.
1 Sep 14 - New Zealanders might be slow at adopting alternative electricity generation, but it does threaten the existing centralised model, a new report says.
1 Sep 14 - Power generation from renewable sources such as wind, solar and hydro grew strongly last year, reaching almost 22 per cent of global generation, says the International Energy Agency.
1 Sep 14 - Eco Alkalines household batteries are carboNZero.
1 Sep 14 - Public support for renewable energies across the world continues to grow, particularly in more advanced economies − with solar power being especially popular.
1 Sep 14 - Challenging news for those climate campaigners who believe that renewable sources of energy are on the increase: they may be, but so are carbon dioxide emissions.
25 Aug 14 - Britain's advertising watchdog has ruled that an advertisement for "clean coal" by the world's largest private sector coal firm, Peabody Energy, was misleading and should not be published again in...
25 Aug 14 - This week Brisbane hosts the final meeting of the G20 Energy Sustainability Working Group before the main G20 summit in November, when government officials and energy experts from 20 of the most...
18 Aug 14 - Researchers have discovered that the world's energy needs could easily be met by harnessing the power potential of high-altitude winds.
18 Aug 14 - By JON MAJOR.- Whenever I tell people I work with solar cells, I am asked the same two questions: are they ever going to be really cheap? And can you get me some?
18 Aug 14 - Groups for and against US government plans for new regulations aimed at cutting greenhouse gas emissions have been slugging it out at a series of heated debates across America.
11 Aug 14 - Kawerau might have a new future as a flower town as part of a drive by Maori to build sustainable green businesses on their land.
---