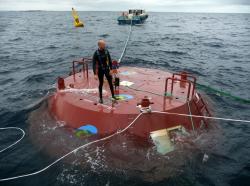 Monday - A pioneering wave farm off Perth now generating electricity is an exciting and welcome development.

Monday - Shell chief Ben van Beurden is pointing the way for oil companies to demand greater certainty over future climate policy.

Monday - The European Commission's overhaul of the EU electricity market will target national public support for renewables, while encouraging governments to pay energy companies in other member states for idle power stations.

16 Feb 15 - Energy efficiency rules in California have failed to cut energy consumption, suggesting that direct action is less effective than carbon pricing in reducing greenhouse gas emissions, a visiting economist says.

16 Feb 15 - Japanese scientists have found a potential answer to the biofuel dilemma that if you grow crops for energy, you have to sacrifice crops for food.

16 Feb 15 - Photosynthesis – turning the sun's energy into food for plants – is the biological system that feeds the world, but despite its awesome power, the process is extremely inefficient.

16 Feb 15 - The publication of a hefty two-volume report on geoengineering by the US National Research Council represents a marked shift in the global debate over how to respond to global warming.
---
9 Feb 15 - By PAUL BROWN.- China has overtaken the European Union as the largest new market for solar power.
9 Feb 15 - MPs in the UK recently needed more time voted against a moratorium on hydraulic fracturing, but Lancashire, the local county council under most pressure, agreed it
9 Feb 15 - A South Australian wind farm has won the bid to provide the Australian Capital Territory with renewable energy.
2 Feb 15 - Forget, for the moment, whether you think fracking is an energy godsend or an endtimes disaster. Just consider how it's everywhere.
2 Feb 15 - In a surprise decision that led to consternation in the oil and gas industry and elation among fracking opponents, New York Governor Andrew Cuomo in December banned fracking in the state.
2 Feb 15 - In a piece published in the Guardian recently, Australian Environment Minister Greg Hunt was purported to have once again rejected claims that a price on carbon would benefit emissions reduction...
2 Feb 15 - By NATHAN PHILLIPS.- Like many Americans concerned with climate change and energy security, I reacted with high hopes to the President Obama's proposal to reduce leaks of methane gas from oil and gas...
2 Feb 15 - More energy-efficient elevators can significantly reduce the costs of operating a building, a new study shows.
27 Jan 15 - More than 150 million carbon units passed through the New Zealand register last year.
27 Jan 15 - A battery that could treble electric car mileage and cut costs is among the innovations moving closer to reality on the frontiers of science.
27 Jan 15 - The energy market in Germany saw a spectacular change last year as renewable energy became the major source of its electricity supply − leaving lignite, coal and nuclear behind.
27 Jan 15 - Our children will enjoy in their homes electrical energy too cheap to meter, said Lewis L Strauss, chair of the US Atomic Energy Commission, in 1954.
---