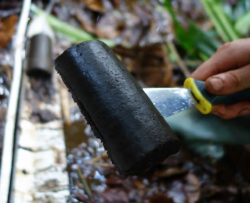 Tuesday - Scientists have discovered the world's largest tropical peatland in the remote Congo swamps, estimated to store the equivalent of three year's worth of the world's total fossil fuel emissions.

19 Dec 16 - The emerging biofuel industry is casting the net wide to find solutions to two environmental problems: reducing waste and increasing fuel production.

19 Dec 16 - People working in green buildings think better in the office and sleep better when they get home, a new study has revealed.

19 Dec 16 - The California Energy Commission has passed sweeping energy-efficiency standards for computers and monitors in an effort to reduce power costs.

16 Dec 16 - Solar is now on a par with wind energy and will soon become the cheapest form of energy in developing nations, says a new report.

15 Dec 16 - The Government's plan to cut the emissions intensity from industrial heat generation by 1 per cent a year is just business as usual, and will do little to achieve New Zealand's Paris Agreement commitment.

15 Dec 16 - Andrew Caseley is to head the government's Energy Efficiency and Conservation Authority, after the person who got the job turned it down.
---
15 Dec 16 - Many innovations aimed at reducing carbon dioxide have been put forward. Now, a California entrepreneur is proposing a more practical solution.
14 Dec 16 - A proposed national strategy to convert industrial heat processes to renewable energy is being welcomed by the sector.
13 Dec 16 - The Government has unveiled plans to cut the emissions intensity of the country's industrial sector by 1 per cent a year.
13 Dec 16 - Bill Gates and more than a dozen of the world's wealthiest individuals have revealed a new $1 billion investment fund to foster major advances in clean-energy production.
13 Dec 16 - The value of investment funds committed to selling off fossil fuel assets has jumped to $5.2 trillion, doubling in just over a year.
7 Dec 16 - Google's data centres and the offices for its 60,000 staff will be powered entirely by renewable energy from next year, in what the company has called a "landmark moment".
6 Dec 16 - Since Tesla unveiled its Powerwall, politicians, commentators and industry have hyped storage – and particularly batteries – as the solution for getting more renewable energy into electricity grids...
5 Dec 16 - New Zealand could easily become a Queensland-style biofutures superpower, local industry leaders say.
5 Dec 16 - For centuries, humans have dreamed of harnessing the power of the sun to energise our lives here on Earth.
5 Dec 16 - Seven years ago, the US exported its crude oil to just one country — Canada. This year, 22 countries received American crude oil, marking a more than 1000 per cent increase in US oil exports since...
5 Dec 16 - The world's largest solar plant has been unveiled by the Adani Group in Kamuthi, Tamil Nadu, in the south of India.
2 Dec 16 - The global solar photovoltaic market is likely to grow to nearly 300 gigawatts this year.
---