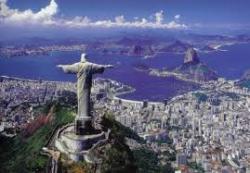 Monday - Brazil will spearhead renewable energy development in South America to 2017, as the continent changes its energy profile.

18 May 15 - The new Tesla Motors factory being built outside Sparks, Nevada, was already on tap to produce 500,000 electric car batteries and become the largest battery factory in the world when chief executive Elon Musk announced last month it would also produce the potentially revolutionary home battery, the Powerwall.

18 May 15 - A race is on worldwide to harness the tides and waves for electrical power, with more than 100 different devices being tested by companies hoping to make a commercial breakthrough.

18 May 15 - When the price of crude oil dropped from US$110 a barrel in mid-2014 to below US$50 by January 2015, there were fears that it would destroy the "green revolution".

18 May 15 - Foreign Minister Murray McCully and Cook Islands Prime Minister Henry Puna have officially opened solar arrays on the islands of Penrhyn and Manihiki this week, and marked the completion of the Cook Islands Solar Project.

11 May 15 - New Zealand could turn "green into gold" by capitalising on emerging clean technologies and showing leadership on climate change.

11 May 15 - A company in which Prime Minister John Key is a shareholder is reducing coal investment because of the risk of financial exposure.
---
4 May 15 - Just five solar-power installation companies could create as many jobs as the Rotowaru coal mine, a new analysis says.
4 May 15 - A pilot project to encourage industrial users to switch to wood-fired boilers could cut greenhouse gas emissions by nearly 200,000 tonnes.
4 May 15 - At many universities and other institutions, heartfelt campaigns are under way to divest from fossil fuel companies as a way to address climate change.
4 May 15 - By NIRAJ LAL.- The Tesla in front of me was shiny, sleek and silent, but my daydreams were interrupted with a question: does a Tesla charged by Australian electricity emit less CO2 per kilometre...
4 May 15 - Companies and governments responsible for 40 per cent of global gas flaring have made a commitment to stop their climate-damaging activities within the next 15 years.
28 Apr 15 - New Zealand's greenhouse gas emissions trend from energy is worse than the OECD average, a new report says.
28 Apr 15 - LanzaTech, the New Zealand-founded carbon recycling company, says it has other full-scale commercial plants in the pipeline following this week's announcement that China Steel Corp will invest US$46...
28 Apr 15 - Inventors are in a race to find the best way of storing electricity to make the most of renewables and cut the use of fossil fuels.
28 Apr 15 - Two groups of US scientists are exploring new ways of capturing carbon dioxide from the atmosphere.
20 Apr 15 - Australia's second-largest power company says it will close its coal-fired power stations by 2050 and concentrate on developing renewable energy.
20 Apr 15 - A $2 trillion group of investors have asked regulators to force oil and gas companies to provide more disclosures about climate-related risks to their businesses.
20 Apr 15 - The cost of batteries is one of the major hurdles standing in the way of widespread use of electric cars and household solar batteries.
---