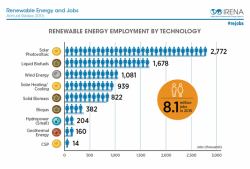 Friday - More than 8.1 million people worldwide are now employed by the renewable energy industry – a 5 per cent increase from last year.
Friday - Following the recommendation of the ExxonMobil board of directors, shareholders voted against six resolutions that would have addressed climate change at the company's annual shareholder meeting in Dallas yesterday.
Thursday - Declining costs in China's solar industry could allow the government to reduce prices offered to photovoltaic developers by more than a third by 2020 and see plants powered by the sun become competitive with coal within a decade.
Thursday - One million solar power installations now dot America's rooftops and landscape, an achievement being hailed as a milestone by advocates of solar energy.
Thursday - Royal Dutch Shell is to cut at least another 2,00 jobs, with around 475 of those coming from its UK and Ireland oil and gas production business.
Thursday - Poland has adopted a new law banning construction of wind farms close to dwellings and hiking project costs in a move which the industry says could hobble the country's move to renewables and away from coal.

Wednesday - Insurance companies should be taking a hard look at their exposure to investment in fossil-fuel assets, a new report says.
---
Wednesday - Thanks to the fracking boom, the US has surpassed Saudi Arabia and Russia to become the world's leading producer of oil in 2013. The US became the top natural gas producer in 2011, and has led the...
Tuesday - A report that says switching to electric vehicles will do more to prevent climate change than would installing solar panels was funded by the big generators and lines companies with a vested interest...
Tuesday - The big oil companies' on-off affair with renewable energies seems to be back on track.
Tuesday - Glencore investors have agreed that the largest exporter of coal burned for power should provide more information on risks to its business from growing levels of government legislation to tackle...
Monday - Portugal last week set a record for renewable energy use. Through a combination of hydroelectric, solar, and wind power, electricity use in the country was completely covered for four consecutive...
20 May 16 - Indonesia, already one of the world's biggest carbon emitters, plans to build a further 100 coal-fired power stations by 2019.
20 May 16 - Europe's move to replace at least 80 per cent of electricity meters with smart meters could cut greenhouse gas emissions in the region by 9 per cent.
20 May 16 - Norway has warded Arctic drilling licences to 13 oil companies, including in a hitherto unexplored part of the Barents Sea, drawing condemnation from environmental groups.
19 May 16 - Innovations worth 1.2 petajoules of energy and 120,000 tonnes of greenhouse gas emissions were honoured in Auckland last night.
19 May 16 - Two countries with the highest tides in the world, Canada and the UK, both claim to be the world leaders in creating electricity from the tides.
19 May 16 - Europe needs an independent carbon market regulator with clear objectives rather than the current mix of state administrators and the European Commission that has complicated the market, says the...
19 May 16 - In the first three months of 2016, the U.S. grid added 18 megawatts of new natural gas generating capacity. It added a whopping 1291MW of new renewables.The renewables were primarily wind (707 MW)...
---