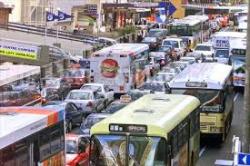 22 Dec 14 - Greenhouse gas emissions from energy are up as the burning of gas and oil for transport and heating cancels out gains from renewable electricity production.

22 Dec 14 - The administration of New York Governor Andrew Cuomo has banned hydraulic fracturing in the state, citing public health concerns.

22 Dec 14 - Mining is the fourth-largest energy consumer in Australia, using roughly 10 per cent of Australia's total. Some of this comes from the electricity grid — but much is supplied off-grid in the form of diesel and other fossil fuels.

15 Dec 14 - New Zealand is expanding oil and gas exploration at the same time as Britain probes the likely cost of stranded fossil-fuel assets.

15 Dec 14 - The launch of a new coalition spearheaded by the United Nations Environment Programme will focus on boosting renewable energy usage around the world.

15 Dec 14 - The Australian Government is leading a new focus on reforms to put downward pressure on electricity prices and give Australian consumers greater power over their energy bills.

15 Dec 14 - In a move that's likely to cause consternation in some of the world's most powerful corporate boardrooms, the Bank of England has disclosed that it is launching an inquiry into the risks fossil fuel companies pose to overall financial stability.
---
8 Dec 14 - Solar energy is sometimes dismissed as a fanciful idea with little to offer so far in such a cloudy country as the United Kingdom, but a new report says power from the sun could thrive in Britain in...
1 Dec 14 - The controversy ignited by the Australian National University in October, when it decided to sell its shares in seven resources companies, has raised two important questions about divestment from...
1 Dec 14 - A British went into service last week, powered by biomethane energy derived from human waste at a sewage plant.
24 Nov 14 - The United States and China have announced goals to reduce emissions by 26 per cent to 28 per cent and to cap emissions by 2030 respectively.
17 Nov 14 - China can achieve economic development, energy security and reduce pollution at the same time, according to a major new study.
17 Nov 14 - Kiwi cleantech company CarbonScape has hit its crowd-funding equity target.
17 Nov 14 - The coal industry has many friends in high places, and none more so than Tony Abbott, Prime Minister of Australia − one of the world's major producers of a fuel that earns the country billions...
17 Nov 14 - Despite promises to phase out subsidies to the coal, oil and gas industries, a new report says the UK and other G20 governments are still providing them with massive financial help.
10 Nov 14 - Generator Mighty River Power is claiming a stake in the new economy, pushing for New Zealand's car fleet to go electric and indicating that it will move into the water business.
10 Nov 14 - The second stage of Kiwi company Tustpower's project to build South Australia's largest wind farm has been launched, ahead of time and under budget.
10 Nov 14 - The man responsible for maintaining India's power supply says he wants the country's coal production to double within the next five years.
10 Nov 14 - An electricity supergrid is being planned to connect all 28 European Union countries and provide them with insurance against power blackouts.
---