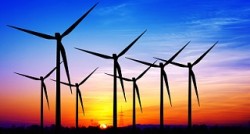 Today 11:00am - According to the International Energy Agency, 50 per cent of global net electricity generation capacity added in 2015 was renewable.

Today 11:00am - Pressure from the miners' and energy workers' union CGT has forced the French government to back down on extending the carbon tax to coal-fired power stations.

Wednesday - About 500,000 solar panels are installed each day worldwide. In China, two wind turbines are built every hour.

Wednesday - Battery storage is still many years away from preventing massive blackouts such as the one that hit South Australia last month, according to a senior utility figure.

Wednesday - India wants to provide its entire population with electricity and lift millions out of poverty, but in order to prevent the world overheating it also needs to switch away from fossil fuels.

Tuesday - Improved energy efficiency is helping New Zealand to cut thousands of tonnes of carbon emissions, as well as saving millions of dollars a year, the Government energy efficiency agency reports.

Tuesday - Risk has become a central construct for how businesses should respond to climate change.
---
Tuesday - Job growth is a prime topic in the US presidential race, but Donald Trump and Hillary Clinton have very different takes on the role clean energy could play in creating employment.
21 Oct 16 - New Zealanders are producing more greenhouse gas emissions from the use of diesel, according to new figures.
21 Oct 16 - Global demand for energy will grow 25 per cent in the next 25 years and countries will guzzle oil five times the size of Saudi Arabia's reserves, predicts Exxon Mobil CEO Rex Tillerson.
21 Oct 16 - Oil companies must cut their carbon footprints to play a part in meeting the Paris Agreement on climate change, says Saudi Arabia oil chief Khalid Al-Falih.
21 Oct 16 - Target is now the US. company that produces the most solar power at its facilities, beating out Walmart for the first time, and heading off Prologis, Apple, Costco, Kohl's, and IKEA.
20 Oct 16 - After a heart-stopping plunge in the price of crude over the last two years, along with slashed dividends and the elimination of tens of thousands of jobs, the biggest oil companies are proving...
18 Oct 16 - A nuclear fusion world record has been set in the US, marking another step on the long road toward the unlocking of limitless clean energy.
18 Oct 16 - Ever since the 1973 oil embargo, US energy policy has sought to replace petroleum-based transportation fuels with alternatives. One prominent option is using biofuels, such as ethanol in place of...
18 Oct 16 - Public opposition to pumping water and chemicals into the ground to extract gas from shale − the technique known as fracking − is growing even in the countries whose governments are most...
17 Oct 16 - A global deal to limit the use of hydrofluorocarbons in the battle to combat climate change has been hailed as a "monumental step forward".
17 Oct 16 - They went to Kigali to eliminate hydrofluorocarbons and take 0.5deg out of future global warming, and the 170 countries who successfully negotiated an amendment to the Montreal Protocol agreed to get...
14 Oct 16 - Global wind capacity is set to hit 500GW by the end of 2016, accounting for around 5 per cent of global power demand, according to new data.
---