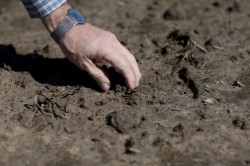 Today 11:00am - More than 50 trillion kilograms of carbon could be released into the atmosphere from the soil by mid-century if no moves to mitigate climate change are successful, says a new report.

Friday - On average, one person is displaced each second by a disaster-related hazard. In global terms, that's about 26 million people a year.

Friday - The European Commission's Winter Package is a further step toward harmonising the bloc's climate and energy strategy, says the International Emissions Trading Association.

Thursday - As the short Antarctic spring ends and long summer days approach, geo­scientists are flocking to the frozen continent to start a new kind of exploration.

Thursday - Europe will begin phasing out coal subsidies and cut its energy use by 30 per cent before the end of the next decade, under a major clean energy package just announced.

Thursday - The EU carbon market's generous handouts to industries deemed at risk of losing business abroad are undermining the system, a watchdog has warned.

Thursday - Alongside her husband, Doug, Kris McDivitt Tompkins bought up vast swaths of Patagonia to save it from developers.
---
Wednesday - Donald Trump's election portends a major shift in how one of America's greatest bulwarks against the impacts of climate change will be protected and used for fossil fuel development.
Wednesday - An ice sheet in West Antarctica is breaking from the inside out.
29 Nov 16 - At least one million tonnes of chemical weapons were dumped in the oceans between 1919 and 1980. Now what?
28 Nov 16 - Arctic scientists have warned that the increasingly rapid melting of the ice cap risks triggering 19 "tipping points" in the region that could have catastrophic consequences around the globe.
28 Nov 16 - The government of Bolivia has been forced to declare a state of emergency as it faces its worst drought for at least 25 years.
28 Nov 16 - Floods are often seen as a force of destruction, but river ecologists find it hard not to see a positive side to the events.
28 Nov 16 - British scientists have identified a paradox in research on the impact of extra carbon dioxide on the world's oceans.
25 Nov 16 - While shoppers scramble for Black Friday bargains this year, outdoor retailer REI is closing its 145 US stores. This is the second consecutive year the Seattle-based company will ignore the frenzy...
24 Nov 16 - It seems almost certain that US President-elect Donald Trump will walk away from the Paris climate agreement next year. In the absence of US leadership, the question is: who will step up?
24 Nov 16 - The European Parliament has voted in favour of new EU rules to cap air pollution, which will curb the single largest environmental cause of premature death in urban Europe.
23 Nov 16 - US president-elect Donald Trump says he will "cancel job-killing restrictions" on energy production, but keeps quiet on Paris Agreement.
23 Nov 16 - UK universities are helping to lead the world on environmental research – but when it comes to their own back yard they appear to be falling behind.
---