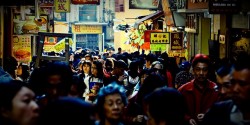 Friday - A leading UK voice in the debate on climate change says more attention should be paid to positive action being taken to tackle CO2 emissions in China rather than worrying about the US and Donald Trump.

Friday - Researchers will have to deal with attacks from a range of powerful foes in the coming years – and for many, it has already started.
Thursday - In some political circles, hostility to climate policy has become a way of showing off one's conservative credentials. But a suggestion for pricing carbon, grounded in classic conservative principles, has now emerged in the United States.

Thursday - Coca-Cola has announced it supports testing a deposit return service for drinks cans and bottles, in a major coup for environment and anti-waste campaigners.

Wednesday - When Sweden's deputy prime minister Isabella Lövin posted a photo of herself referring one of the world's most ambitious climate laws to parliament, surrounded by women, it was undeniably provocative.

Wednesday - The volume of natural resources used in buildings and transport infrastructure increased 23-fold between 1900 and 2010.

Tuesday - Traffic fumes, slash-and-burn farming and open wood stoves are raising the risk of babies being born before they are ready.
---
Tuesday - Concern about the environmental impact of industrialised farming through the use of pesticides and the destruction of the rainforest has even spread to Brazil's famous Rio carnival.
20 Feb 17 - Among the 21st-century threats posed by climate change - rising seas, melting permafrost and superstorms - European leaders are warning of a last-century risk they know all too well: war.
20 Feb 17 - Singapore is set to impose a carbon price as it looks to cut greenhouse gas emissions to meet its commitments under the Paris Agreement.
17 Feb 17 - The growing crack in the Larsen C ice shelf is the most dramatic example of change in Antarctica right now. But it isn't the continent's only frozen feature changing in a warming world.
17 Feb 17 - The European Parliament has adopted draft reforms of the EU's carbon market post-2020 that aim to balance greater cuts in greenhouse gases with protection for energy-intensive industries.
17 Feb 17 - Researchers have found the range of wildlife now affected by climate change is broad, and includes animals on every continent.
16 Feb 17 - Sea ice around Antarctica has shrunk to the smallest annual extent on record after years of resisting a trend of manmade global warming, preliminary US satellite data has shown.
16 Feb 17 - India's rapidly worsening air pollution is causing about 1.1 million people to die prematurely each year and is now surpassing China's as the deadliest in the world.
15 Feb 17 - Lawmakers in the European Parliament will vote later today to give a new lease of life to the EU's emissions trading scheme, which puts a price on global warming emissions. But will they get the...
14 Feb 17 - As the Arctic slipped into the half-darkness of autumn last year, it seemed to enter the Twilight Zone. In the span of a few months, all manner of strange things happened.
14 Feb 17 - For the first time, researchers have developed a mathematical equation to describe the impact of human activity on the earth, finding people are causing the climate to change 170 times faster than...
14 Feb 17 - The number of monarch butterflies wintering in Mexico dropped by 27 per cent this year, reversing last year's recovery from historically low numbers.
---