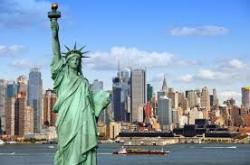 Tuesday - A United Nations chief dismayed at the lack of resolve toward the climate crisis; a daunting deadline for negotiating a new treaty; 125 or so heads of state; a sprawling agenda of fossil fuels, food, forestry and finance; a train of think tanks hauling gigabytes of green data; countless teach-ins, press conferences, art shows - plus tens or even hundreds of thousands of activists marching through midtown Manhattan, demanding action now.

Tuesday - Activists next week will try to seize an opportunity to put the climate movement alongside the Civil Rights and the Vietnam anti-war movements.

Tuesday - * More than 500 Korean firms face CO2 emissions cap * Carbon markets gaining momentum in the US * Fracking workers exposed to dangerous amounts of benzene, study says * France aims for 'energy positive' public buildings * Do we tax carbon emissions or trade them? Economists dig into the problem * Solar-powered ambulances awarded Government funding

Tuesday - The unprecedented drought affecting São Paulo, South America's giant metropolis, is believed to be caused by the absence of the "flying rivers" - the vapour clouds from the Amazon that normally bring rain to the centre and south of Brazil.

Tuesday - By TIM RADFORD.- The news is enough to make climate campaigners choke on their high-fibre breakfast cereal: if Americans adopted the dietary guidelines suggested by their own Department of Agriculture, greenhouse gas emissions would actually go up by 12 per cent.

8 Sep 14 - With nearly $2 billion pledged in sustainable development partnerships, the United Nations last week wrapped up its small island developing states conference in Samoa and kicked off a drum roll of action on climate change.

8 Sep 14 - UN Secretary-General Ban Ki-moon is attempting to prevent world leaders sleepwalking into disaster by asking them to make new pledges at his climate summit this month on cutting greenhouse gases.
---
8 Sep 14 - * Clinton: America can be clean-energy superpower * High-level shale gas study calls for moratorium on fracking * Chile set to pass Latin America's second carbon tax * Judge rules BP was grossly...
8 Sep 14 - An explosive new book about logging is about to rock Malaysia's corridors of power.
8 Sep 14 - Exactly a year ago, the world was wrestling with the possibility of another US-led military assault on an Arab state, following the horrific gas attacks in Damascus, Syria.
8 Sep 14 - The Australian government has just received a vitally important report to guide its decisions on the future of Australia's Renewable Energy Target.
8 Sep 14 - The energy-water nexus between water, sanitation, and our global consumption of energy – the "energy-water nexus" - are more obvious than ever before. But how many of us will take direction at the...
1 Sep 14 - * Big power out, solar in: UBS urges investors to join renewables revolution * Renewable energy investments create larger returns than pension funds * Researchers say this year's ecological...
1 Sep 14 - Small island states offer opportunities for genuine and sustainable business partnerships, according to executives and officials at United Nations private sector forum in Samoa.
1 Sep 14 - Outside the semi-arid area of the north-east, Brazilians have never had to worry about conserving water. Year in, year out, the summer has always brought rain.
25 Aug 14 - * World's largest tidal energy project gets £50m funding boost * 'Grand bargain' may secure enough support for Direct Action to pass Senate * Global climate inaction will mean economic turmoil for...
25 Aug 14 - The United Nations expects more than 300 initiatives to be announced next week at a major world conference in Samoa aimed at fostering partnerships with small island developing states.
25 Aug 14 - An effective treaty to reduce greenhouse gas emissions will probably remain elusive, according to a new research study, because the steps likely to win political agreement would be ineffective, while...
25 Aug 14 - It's tempting to view The Australian's latest broadside at the ABC as just another salvo fired between the nation's two biggest media organisations.
---