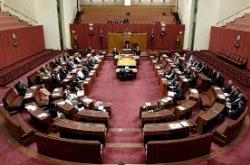 Thursday - The theme of the past 30 days – much like the past 12 months – has been politics, with market focus squarely on the Western Australia Senate election re-run on April 5 and the implications for the balance of power in the new Senate from July 1, says market analyst Reputex.

Thursday - Renewable energy subsidies that helped to spur Europe's $NZ77 billion-a-year clean energy industry are to be phased out across the continent, under new market-friendly state aid rules announced by the European Commission..

Thursday - * Russia reveals plans to boost flagging coal industry * California hunting, agriculture,forestry emissions reductions * Apple: Climate change is real ... and it's a real problem * US military told to boost renewables in energy policy overhaul

17 Apr 14 - A long-awaited United Nations report on the mitigation of climate change released this week shows that all countries must act swiftly and boldly to reach a global, ambitious and legal climate agreement in 2015, says the United Nations.

17 Apr 14 - For the first time, the IPCC has addressed the ethical, as well as technical, issues of reducing greenhouse emissions.

17 Apr 14 - * IPCC report: Bet your house on low carbon energy growth * Coal main energy source for 'decades and decades', says Australian minister * Watch episode one of Years of Living Dangerously * British biofuel firm switches jobs and investment to US * Formula E partners to reduce championship CO2 emissions

17 Apr 14 - Cool, green roofs and walls are the hottest property trend in Sydney - from bars to office blocks, apartments and swimming pools.
---
11 Apr 14 - By KIERAN COOKE.- There's Harrison Ford in the jungles of Indonesia, investigating deforestation and the plight of orangutans. There's Arnold Schwarzenegger, battling wildfires in California, Don...
11 Apr 14 - * UK green bank invests £460m in offshore windfarms * Climate action only way to grow economy, says Unilever * Toyota launches world-first metal recycling scheme * Climate change worries Chinese...
4 Apr 14 - By ALEX KIRBY.- A warming climate is closely related to political and social instability and a higher risk of conflict, according to American scientists.
4 Apr 14 - By PROF NICK ROWLEY.- In Australia, any sense of the need for an urgent policy response has stalled, despite this week's reminder from the IPCC of the threats the country faces – not to mention the...
4 Apr 14 - * US, China and EU agree to cooperate on UN climate treaty * Hubei starts China's second-biggest carbon exchange * Social media explosion powered by dirty energy, report warns * California pays...
4 Apr 14 - THE COMMITMENT of small islands in the Pacific to low-carbon development has been praised by the head of the United Nations.
4 Apr 14 - BIG ENERGY-guzzling companies will get a handout of up to $US2.75 billion under proposed new state aid rules due to be finalised by the European Commission by April 9, according to an analysis by...
4 Apr 14 - TWO researchers who tried to work out the economics of reducing global climate change to a tolerable level have come up with a perhaps surprising answer: essentially, we do not and cannot know what...
28 Mar 14 - WITHIN the course of five days, Brussels will play host to Barack Obama and Xi Jinping. As the international community looks to keep global warming under 2°C, these leaders must insist on the same,...
28 Mar 14 - By MICHAEL HOPKIN.- A Labor-dominated Senate committee has set the stage for the post-July tussle over carbon policy, recommending that Australia commit to much deeper emissions cuts than the...
28 Mar 14 - THE EUROPEAN Commission is preparing new policy proposals to reduce waste and reach greater recycling rates, in order to move towards a zero-refuse economy.
28 Mar 14 - AIR POLLUTION killed seven million people across the globe in 2012, making it the world's largest single environmental health risk, according to new figures.
---