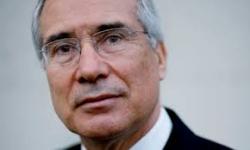 Monday - Governments and businesses can now improve economic growth and reduce their carbon emissions together, says a major new report by a commission of global leaders.
Monday - A new report called Better Growth, Better Climate draws the seductive conclusion that "we can create lasting economic growth while also tackling the immense risks of climate change".
Monday - WORLD WEB: Largest-ever climate change march rolls through NYC * China cautious on fresh commitments ahead of climate change summit * Will the new EU Commission assure Europe's leadership on sustainable development? * It's time to teach climate change in school * After An Inconvenient Truth: the evolution of the climate change film

Monday - Welcome to tropical Sydney, where colourful surgeonfishes and parrotfishes are plentiful, corals have replaced kelp forests, and underwater life seems brighter, more colourful and all-round better. Or is it?

Monday - By TIM RADFORD.- New projections say the population of the planet will not stabilise at 9 billion sometime this century. In fact, there is an 80 per cent likelihood that, by 2100, it will reach at least 9.6 billion − and maybe rise as high as 12.3 billion.

Monday - In the lead-up to the UN leaders' summit on climate change (http://www.un.org/climatechange/summit), China is shifting up a gear in its drive towardsnational emissions trading.

Monday - A new handbook shows how forward-looking communities around the world are already moving away from reliance on fossil fuels and generating their own power with 100 per cent renewables − while also becoming more prosperous and creating jobs.
---
Monday - Installing LED lights in streets could halve energy consumption from street lighting, the government's energy efficiency agency says.
Monday - Things could soon get worse for drought-hit California. New research predicts that, by the close of the century, global warming could have reduced the flow of water from the Sierra Nevada mountains...
Monday - Is it possible for humans to fulfil their needs without also destroying the environment? It's a question we need to find an answer to soon, as the world's poorer regions demand the same perks that...
Monday - The terrifying whirlwinds that punctuate the mid-Western summer in the United States so frequently as to earn the nickname Tornado Alley for the southern plains region states such as Nebraska,...
Monday - The winner of a copy of MiStory, Philip Temple's cli-fi story set in a futuristic New Zealand, is the out-going Labour MP and climate change spokesperson Moana Mackey.
Monday - Commercially troubled state coal miner Solid Energy requires an extension of a government guarantee to meet the $103 million future cost of returning mined land to its pre-mined condition in order to...
Monday - The switch to a gravity-feed water system has resulted in huge cost-savings for Otago farmers David and Sarah Smith, winners of an energy excellence award in the 2014 Otago Ballance Farm Environment...
Monday - Sydney has launched an app it hopes will drive recycling.
17 Sep 14 - NZUs are relatively quiet and are holding the $4.40 level. OMFinancial reports:
16 Sep 14 - A Labour Government would put $100 million a year into clean-tech companies.
16 Sep 14 - A United Nations chief dismayed at the lack of resolve toward the climate crisis; a daunting deadline for negotiating a new treaty; 125 or so heads of state; a sprawling agenda of fossil fuels, food,...
16 Sep 14 - Activists next week will try to seize an opportunity to put the climate movement alongside the Civil Rights and the Vietnam anti-war movements.
---