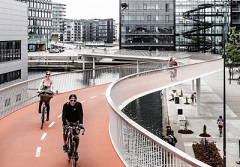 Today 10:00am - With the rise of popularity of e-bikes, Germany is building the world's biggest bicycle "autobahn" of 62-miles, connecting 10 cities.

Today 10:00am - The shock waves felt round the world at the UK's decision in a referendum to leave the European Union will have unexpected consequences for some major projects linked to climate change.
Today 10:00am - Addressing clean energy investors in London, Britain's climate and energy chief Amber Rudd struck a bullish tone after last week's vote to leave the European Union.

Today 10:00am - The Paris climate agreement saw countries pledge to limit global warming to well below 2degC, and to aim to keep it within 1.5deg. The problem is that countries' current emissions targets are not enough to meet these goals.
Today 10:00am - MEPs are trying to stop the stewardship of EU emissions trading legislation falling into the hands of a coal-supporting Polish member of the European Parliament.
Today 10:00am - The vast hole in the ozone layer above Antarctica appears to be healing, scientists say, putting the world on track to eventually remedy one of the biggest environmental concerns of the 1980s and 90s.

Today 10:00am - About a third of Adelie penguin colonies in Antarctica could disappear in the next four decades due to human caused global warming, a figure that could balloon to more than half by the end of the century.
---
Thursday - Want to get a handle on the nature of New Zealand's greenhouse gas emissions? Have a look at the Ministry for the Environment's new emissions tracker.
Thursday - Mines typically follow a set path from prospecting, to development, to extraction and finally closure as the finite resources are exhausted. But does that really need to be the end of the mine's...
Thursday - New data on urban air quality from the World Health Organisation recently led Onitsha, Nigeria, to be given the title of "most polluted city" in the world.
Thursday - Electric vehicles will need to increase their combined market share to 16 per cent by 2020 to achieve the aggressive fuel economy standards set by regulators, according to new research by the World...
Thursday - Brexit is sending prices in the European Union carbon market lower, and options traders expect it to get worse.
Thursday - Moody's Investors Service will use national climate action commitments put forward as part of the Paris Agreement in its analysis of the credit implications of carbon transition risk.
Thursday - UK ministers will this week approve a world-leading carbon emissions reduction target for the early 2030s.
Wednesday - Sydney says it will have net-zero carbon emissions by 2050, and that half its electricity will come from renewable sources by 2030.
Wednesday - Three years' worth of information on New Zealand's energy use is now available to the public.
Wednesday - Africa will play a critical role in the spread of carbon markets, says International Emissions Trading Association president Dirk Forrister.
Wednesday - The number of "hot days" in New York City will triple, which is likely to bring about thousands of heat-related deaths by the year 2080, says a new report.
Wednesday - Strategically siting wind turbines where their energy can most easily be fed into the national grid could help to meet more than a quarter of China's massive electricity demand.
---