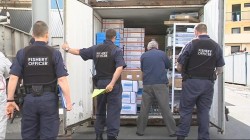 Today 12:00pm - Agencies charged with enforcing New Zealand's environmental laws don't have the money to do the job, and often have conflicted interests.

Monday - New Zealand urgently needs to understand the likely impacts of climate change on the economy, environment and society, says a new government paper.

Friday - Treasury is, for the first time, including New Zealand's natural capital in its long-term thinking – including the value of the country's clean-green brand.

Thursday - Farmers want research into alternative land uses to help them to cope with climate change, and greater incentives to plant carbon-storing trees on their farms.

22 Feb 17 - The Government is looking at changing some current land uses – including forestry and farming – to cut New Zealand's greenhouse gas emissions.

21 Feb 17 - The Government risks court action over its latest energy efficiency strategy, says energy campaigner Jeanette Fitzsimons.

20 Feb 17 - New Zealand's small businesses are lagging behind in adopting energy efficiency measures that could save them significant amounts of money – even though most say that their energy costs are significant, a new study shows.
---
20 Feb 17 - New Zealand and China have held their first ministerial meeting under the bilateral carbon agreement.
17 Feb 17 - New Zealand's "limited and largely ineffectual actions" on climate change risk undermining public confidence in our policy makers, say the authors of the latest Public Perceptions of the Environment...
17 Feb 17 - Climate minister and deputy prime minister Paula Bennett has received a bouquet for her action on climate change from an unexpected quarter – Green MP Kennedy Graham.
17 Feb 17 - New research explains why some of New Zealand's glaciers have been growing, despite the impacts of climate change.
16 Feb 17 - A little of Treasury's thinking on how to protect the economy from carbon exposure has been revealed – including a hint that it wants to talk to the business community.
15 Feb 17 - The Government's energy policies take a battering in new research from Otago University.
15 Feb 17 - Development of a new open-cast coal mine near Westport is being challenged in court.
14 Feb 17 - TREASURY says that forcing government agencies to divest from unethical funds could be expensive.
14 Feb 17 - The Deep South National Science Challenge has announced funding totalling about $2 million for five new research projects to help New Zealanders to better understand their future climate.
13 Feb 17 - By editor ADELIA HALLETT | Try these numbers: Humans are causing the climate to change at 170 times the natural rate. Our "carbon budget" to keep warming below 1.5deg will be used up in five years....
13 Feb 17 - Senior climate scientist PROFESSOR JAMES RENWICK goes looking for the facts in the latest so-called scandal about climate change.
13 Feb 17 - Flour from food waste? Establishing a business doing just that has earned a pair of entrepreneurs recognition as a Good Food pioneer – and a year's business mentoring.
---