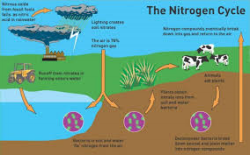 Today 10:00am - Up-front payments of $400 a kilogram to cut nitrogen run-off from farms would see dairy farms turned into forests, Government-funded research shows.

Tuesday - New Zealand will be billions of dollars a year better off if it plants trees along waterways.

Tuesday - Nearly two dozen more stock exchanges are bringing in sustainability reporting standards – but NZX is not one of them.

Tuesday - The Synthetic Greenhouse Gas Levy could be extended to importers of a specialist product used to make polyurethane insulation foam.

Monday - New Zealand could easily become a Queensland-style biofutures superpower, local industry leaders say.

Friday - New Zealand has joined a World Bank group promoting carbon pricing.

Friday - Parliamentary Commissioner for the Environment Dr Jan Wright is welcoming the news that Treasury is talking about the possible impacts on New Zealand of sea-level rise.
---
1 Dec 16 - Old tyres can be completely recycled into low-emission diesel engine oil, says a team of engineers.
30 Nov 16 - A group of eminent New Zealanders who petitioned Parliament to order a risk assessment of the impacts of climate change is welcoming Treasury's apparent support for at least part of the idea.
30 Nov 16 - The average New Zealand household's emissions fell 11 per cent between 2006 and 2012, new research shows.
30 Nov 16 - New Zealand's ecolabels could soon be recognised in China.
29 Nov 16 - A rural bank is warning New Zealand farmers that poor environmental performance could create trade barriers against their produce.
28 Nov 16 - Strutting environmental credentials is paying off for businesses, as climate change rises rapidly as an issue in the minds of the public.
25 Nov 16 - New Zealand has started talking to countries about supplying carbon credits to help to meet its Paris Agreement emissions reduction pledge.
25 Nov 16 - Increasing the speed limit will negate the climate benefits of the Government's electric vehicle policy, says an expert on climate change and transport.
25 Nov 16 - Environment Minister Dr Nick Smith is talking to his new Australian counterpart about aligning environmental regulation.
24 Nov 16 - International momentum for action on climate change is building, despite the United States electing Donald Trump president, says New Zealand's climate change ambassador.
23 Nov 16 - A first report on how New Zealand can adapt to climate change – including environmentally sustainable economic growth - should be with the Government by May.
23 Nov 16 - Parts of New Zealand are sinking at faster rates than others and will be subjected to higher levels of future sea level rise, new research from Victoria University of Wellington suggests.
---