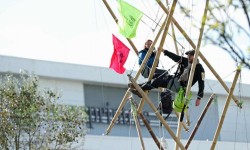 14 Sep 20 - Stephen Fry, Mark Rylance and a former Archbishop of Canterbury are among 150 public figures to hit back at government moves to classify the climate protesters of Extinction Rebellion as an "organised crime group".

4 Sep 20 - A group of artists and writers including Zadie Smith and Sir Mark Rylance have spoken out against the thinktanks and lobbyists at the heart of Westminster, gathering with hundreds of protesters near their offices on Wednesday night.

18 Aug 20 - Britain's wheat harvest is likely to be down markedly this year, according to the National Farmers' Union, capping a tumultuous year for British farming after consecutive seasons of extreme weather.

14 Aug 20 - The climate crisis is presenting increasing challenges for rail safety, senior transport figures have warned, as family and friends paid tribute to three people who died in a derailment in Aberdeenshire following thunderstorms and torrential rain.

5 Aug 20 - Advertising of sports utility vehicles, which emit more greenhouse gases than other cars, should be banned so the UK can meet its climate goals, a report has said.

30 Jul 20 - The UK's biggest pension fund, the government-backed National Employment Savings Trust (Nest) scheme with nine million members, is to begin divesting from fossil fuels.

27 Jul 20 - Instead of blaming protected newts for thwarting the "build, build, build" agenda, politicians and developers must incorporate green thinking into the design of new infrastructure, according to the chair of the UK government's conservation watchdog.
---
16 Jul 20 - Insulating homes and installing renewable energy are the cheapest answers to climate change. Yet powerful backers urge a UK nuclear future.
14 Jul 20 - Lawyers who stopped the expansion of Heathrow Airport because it would be bad for the climate are now turning their sights on Boris Johnson's covid-19 economic recovery plans.
9 Jul 20 - Something magical appeared at night over London and other parts of Britain last month: ripples of electric blue clouds shimmered in the twilight sky after sunset.
7 Jul 20 - Vast quantities of mud, which campaigners say might contain radioactive particles, are the latest problem to confront the UK's nuclear plans for two new reactors under construction in the West of...
3 Jul 20 - Air pollution is probably increasing the number and severity of covid-19 cases and could be important to managing the pandemic, experts say.
2 Jul 20 - The likelihood of the UK experiencing deadly 40deg temperatures for the first time is "rapidly accelerating" due to the climate crisis, scientists have found.
26 Jun 20 - The 2300 villagers of Langholm, a Scottish settlement a few miles north of the English border, hope to buy one of the UK's most famous grouse moors, owned by one of the Britain's most-powerful...
19 Jun 20 - Construction is beginning on the world's largest liquid air battery, which will store renewable electricity and reduce carbon emissions from fossil-fuel power plants.
15 Jun 20 - The French company EDF, a company in a hurry, wants permission to start building two more reactors in the United Kingdom, and it hopes to save money – by arranging for British taxpayers to pay the...
8 Jun 20 - The UK car industry has been in confidential talks with the government over a possible £1.5 billion scrappage scheme that it insists should encourage the purchase of diesel and petrol cars on an...
21 May 20 - Two British startups have announced plans to invest as much as $4 billion in building the UK's first large-scale battery factory, in a move that could prove a major boost to the country's struggling...
24 Apr 20 - For 70 years Britain has been dissolving spent nuclear fuel in acid, separating the plutonium and uranium it contains and stockpiling the plutonium in the hope of finding some peaceful use for it, to...
---