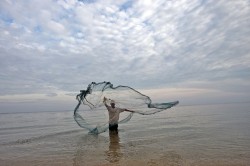 Today 11:00am - Southeast Asia will be hardest hit by rising sea levels caused by melting and collapsing ice sheets.

16 Jul 19 - Prosecutors have indicted the head of a Indonesia's national power firm and other officials, raising hopes of a dirty energy clean-up.

12 Jul 19 - A group of citizens is suing the Indonesian government, including the president, over the poor air quality in Jakarta, which in recent weeks has ranked as the worst in the world.

21 Jun 19 - US spy satellites that secretly kept watch over the Himalayas during the Cold War are helping researchers piece together the most detailed view yet of the region's accelerating ice loss.
14 Jun 19 - Heavy on tech, light on any plans to tackle its coal dependency, Japan has released its climate legislation.

4 Jun 19 - The PhilippineS Senate has passed a law requiring all students to plant 10 trees in order to graduate.

31 May 19 - The last male Sumatran rhino in Malaysia has died in a nature reserve on Borneo.
---
29 May 19 - South-east Asia has begun to push back against the deluge of plastic and electronic waste from the UK, US and Australia.
23 May 19 - Rubber is one of the world's most widely used materials, but irresponsible farming methods have led to deforestation and human rights abuses as the sector has grown.
18 Apr 19 - Voters across Asia are most likely to usher in governments that take a stronger stance on climate change and other environmental issues, according to surveys released in the lead-up to national...
25 Mar 19 - Melting glaciers on Mount Everest have begun exposing the bodies of climbers who died on the mountain.
21 Mar 19 - Baby-turtles have officially returned to Mumbai - and it's all because one of the world's largest beach clean-up efforts.
19 Mar 19 - Major Japanese investors, including those most indebted to coal, are seeking to back large-scale renewables projects across Asia, marking a "monumental" shift that energy market analysts say is "the...
8 Feb 19 - At least a third of the huge ice fields in Asia's towering Himalaya mountain chain are doomed to melt due to climate change with serious consequences for almost two billion people.
4 Feb 19 - Toxic smog has forced Bangkok authorities to issue an unprecedented order to shut nearly 450 schools as authorities struggled to manage a pollution crisis that has stirred widespread concern.
1 Feb 19 - Bali has announced plans to implement a tourist tax which targets plastic pollution.
12 Dec 18 - More than eight billion Tetra Paks are sold every year in Vietnam – and only a few percent are recycled. It's having a devastating effect on the environment.
4 Dec 18 - It's a public health crisis that kills almost five million people in Asia every year. So why isn't air pollution a bigger story?
29 Nov 18 - It's not only glaciers in Greenland and Antarctica that are feeling the effects of a changing climate.
---