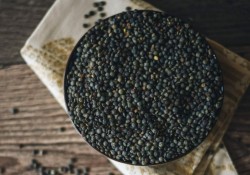 Tuesday - UNITED STATES scientists have worked out how to feed nine billion people and save wild life from extinction, both at the same time – thanks to healthy lentils.

11 Sep 20 - Developers of a new ryegrass say it could cut methane emissions from animals by nine per cent.

11 Sep 20 - For thousands of years, an unknown virus lingered quietly among the wild ruminants of South Africa.

7 Sep 20 - The world's biggest pork producer is promising to be carbon-negative on its own emissions by 2030.

3 Sep 20 - If climate minister James Shaw has his way, putting a carbon charge on agriculture should be as straight-forward as farmers doing a quick calculation to show whether they're in the black or the red on greenhouse gas emissions.

28 Aug 20 - Environmental certification company Toitû Envirocare says its new farm-carbon certification programmes will help farmers get a slice of a huge international market for sustainable products.

18 Aug 20 - Australia's move to store carbon in soil is a problem for tackling climate change, agricultural scientists say.
---
12 Aug 20 - Tobacco plants have been modified with a protein found in algae to improve their photosynthesis and increase growth, while using less water, in a new advance that could point the way to...
10 Aug 20 - Waikato farmers could be replacing dairy cows with buffalo if the region goes ahead with a plan to drastically cut greenhouse gas emissions.
7 Aug 20 - New Zealand is working with Ireland on trade solutions to the problem of carbon leakage in the agricultural sector.
8 Jul 20 - The Government has unveiled a plan for the primary sector that includes a substantial switch to regenerative agriculture.
7 Jul 20 - The livestock sector is being singled out in new research for hugely increasing global nitrogen pollution.
2 Jul 20 - Agricultural industry leaders say they need to feed New Zealanders before the rest of the world.
16 Jun 20 - Fonterra is among 13 global dairy companies criticised for continuing to increase greenhouse gas emissions despite their climate damage.
19 May 20 - Australia's sugar industry is joining forces with health experts to call for a complete change to the world's food systems.
12 May 20 - A new national regime for recording dairy genetics will help to cut greenhouse gas emissions from the nation's herd, officials say.
16 Apr 20 - New Zealand's hill-country farms are releasing much less nitrous oxide than previously thought.
18 Mar 20 - Soil sequestration could remove billions of tonnes of carbon dioxide a year from the atmosphere, scientists say.
12 Mar 20 - A panel has been appointed to review the functioning of Overseer, the farm environmental modelling tool that could help farmers to measure their greenhouse gas emissions.
---