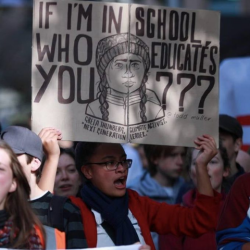 Friday - Pacific Islanders' fears of the effects of climate change which occupied their leaders for 12 tense hours at the South Pacific Forum overnight were passionately voiced in Auckland this morning by a young Pasifika woman.

Friday - Ten years ago, the world was being told that emissions reduction commitments made under the Kyoto Protocol by rich countries were insufficient to stop the worst impacts of climate change.

Thursday - A seaweed that can cut livestock methane emissions is almost ready for commercial production, scientists say.

Thursday - The Government went beyond officials' advice in proposing cuts in methane emissions of up to 47 per cent, briefing papers show.

Thursday - Ten years ago, talks seeking bipartisan support for the Emissions Trading Scheme were breaking down over the National Party's desire to keep agricultural out of the scheme.

Wednesday - The country's largest private energy company says gas should continue to play a large part in New Zealand's energy mix - and that climate action shouldn't come at the expense of economy or living standards.

Wednesday - Ten years ago, the Australian Senate voted down Prime Minister Kevin Rudd's climate-change packages. Nevertheless, New Zealand's climate minister, Nick Smith, was still hoping to see trans-Tasman emissions trading.
---
Tuesday - Four companies have been given a total of more than $1 billion worth of free carbon credits in the latest round of subsidies under the Emissions Trading Scheme.
Tuesday - New Zealand needs to reconsider gene-editing technology in light of climate change, says the co-chair of a Royal Society expert panel on the issue.
Tuesday - Worried about how New Zealand's zero-carbon drive will affect your activities? Spare a thought for the country's steam locomotive enthusiasts facing a world without coal.
Tuesday - Ten years ago, a forestry expert was saying New Zealand could meet the Government's conditional goal of cutting greenhouse gas emissions by 20 per cent by 2020 – but it would have to get cracking on...
12 Aug 19 - Money instead of carbon credits was used to offset half the greenhouse gas emissions liable under the Emissions Trading Scheme last year - creating a potential financial liability for taxpayers.
12 Aug 19 - Climate change is now the single greatest issue on farmers' minds, according to the latest Farm Confidence Survey.
12 Aug 19 - Ten years ago, New Zealand was proposing to cut greenhouse gas emissions by up to 20 per cent on 1990 levels by 2020 if other countries played ball.
9 Aug 19 - Farmers fighting a push for substantial cuts in methane emissions have been dealt a blow by the Intergovernmental Panel on Climate Change.
9 Aug 19 - Producers and users of electrical and electronic goods, farm chemicals and plastics, tyres, refrigerants and packaging could be about to become legally responsible for their disposal.
9 Aug 19 - Ten years ago, New Zealanders wanted greenhouse gas emissions cut by at least 20 per cent by 2020.
8 Aug 19 - Without regulations requiring all businesses to cut greenhouse gas emissions, some New Zealand companies will freeload off the efforts of others, the country's leading emissions auditor is warning.
8 Aug 19 - A print shop, a company supplying uniforms, a skincare product manufacturer, a district council and a health board have taken the top prizes in the Enviro-Mark Solutions Awards announced in Auckland...
---