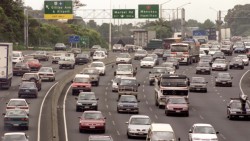 Friday - New Zealanders continue to guzzle fossil fuels, with 76 per cent of the country's energy last year coming from oil, gas and coal, Government figures show.

Thursday - New Zealand's greenhouse gas emissions are set to double between 1990 and 2030 – and even with a carbon price of $50 a tonne, we could still be short of our Paris Agreement pledge by 143 million tonnes.

Thursday - Greater use of market instruments could be good for the environment, says a new report on the Resource Management Act.

Wednesday - The Government knows its economic strategy of increasing agricultural exports cannot go on if New Zealand is to reduce greenhouse gas emissions, a confidential paper shows.

Tuesday - Voluntary carbon credits can help to meet New Zealand's Paris Agreement target, Parliament has been told.

Monday - New Zealand could meet its Paris Agreement pledge without using foreign carbon credits and develop a $6 billion industry at the same time, says the Bioenergy Association.

Monday - Auckland University is now under pressure from students at US university Yale to get out of fossil-fuel investments.
---
23 Sep 16 - The Government must cancel all surplus carbon units it's sitting on in 2020 as part of ratifying the Paris Agreement, says the group that wrote the Climate Cheats report.
23 Sep 16 - Federated Farmers has surprisingly little to say about the Paris Agreement – and that's possibly a good sign for the climate.
23 Sep 16 - A group of twenty-somethings has fronted up to hardened politicians and told them not to worry, they're drafting a Zero Carbon Act for them.
23 Sep 16 - New Zealand is among more than 100 countries calling for an early phase-out of use of the potent greenhouse gas hydroflourocarbon – which could be a challenge, because this country's use of it...
22 Sep 16 - A host of countries has ratified the Paris Agreement overnight, pushing the climate change treaty past one of the thresholds that need to be met to bring it into force.
22 Sep 16 - New Zealand is considering its position on international plans to reduce the aviation industry's impact on the climate.
22 Sep 16 - The Government is doing it again – claiming to have introduced the Emissions Trading Scheme when it actually voted against it.
21 Sep 16 - Carbon could be $60 a tonne by 2030, boosting renewables and fuelling a drive toward energy efficiency, a new report shows.
21 Sep 16 - Ukraine – the source of many of the low-value carbon credits that have so embarrassed the New Zealand Government – is the latest country to ratify the Paris Agreement.
20 Sep 16 - New Zealand needs 1.2 million light electric vehicles on the road by 2030 to meet its Paris Agreement emissions reduction target, a report shows.
20 Sep 16 - Government departments are so cash-strapped they can't afford to buy electric vehicles, the transport minister says.
19 Sep 16 - One of the Government's support parties is promising to do what Treasury advised and what the Government has refused to do – offer cash to anyone buying electric vehicles.
---