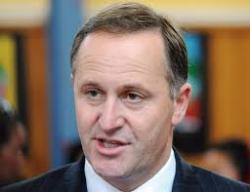 Friday - The Prime Minister says he accepts that 50,000 new jobs would be created by Maori following through on a promise to plant one million hectares of new forest if the Government lifts carbon prices.

Friday - The Government is refusing to adopt a national forestry policy, despite relying on tree planting to meet international greenhouse gas emissions reductions obligations.

Friday - The Labour Party is about to announce a policy using forestry to provide jobs and environmental services.

Friday - Nearly 12 million carbon credits were traded on the domestic carbon market last month.

28 Feb 14 - The Government might be getting ready to finally take action on dismal domestic carbon prices.

28 Feb 14 - Planting just over half of New Zealand's marginal land in forest would make the country carbon-neutral – and the Government knows it.

28 Feb 14 - The wood sector is gearing up to join Maori in making carbon prices an election issue.
---
28 Feb 14 - From April buyers will know whether the NZUs they are buying come from carbon sequestration or are free units given to emitters by taxpayers.
28 Feb 14 - Businessman, economist and philanthropist Gareth Morgan is planning a public campaign over the state of New Zealand's fresh water.
28 Feb 14 - Cleaning up polluted Lake Horowhenua will cost taxpayers more than half a million dollars.
21 Feb 14 - A loophole allowing heavy industrial emitters to coin it at the expense of taxpayers by selling free carbon credits is likely to be closed under a Labour-Greens government.
21 Feb 14 - Frustrated Maori will take their carbon price grievances to the United Nations next week.
21 Feb 14 - Iwi threatening to take a claim to the Waitangi Tribunal over carbon prices have the support of at least two major political parties.
14 Feb 14 - The Government appears to be ignoring an ultimatum from Maori to fix carbon prices or face the consequences.
14 Feb 14 - A proposal by iwi to plant a million hectares of new forest over 10 years could provide the economies of scale needed to kick the New Zealand industry into large-scale processing.
14 Feb 14 - The destruction of hundreds of thousands of tree seedlings is part of a "market correction" and not due to a dysfunctional Emissions Trading Scheme, the Government says.
7 Feb 14 - Maori say they will lodge a $600 million Treaty of Waitangi claim if the Government doesn't move fast to shore up carbon prices.
7 Feb 14 - The number of NZUs used for surrender plummeted last year to fewer than a million.
7 Feb 14 - New Zealand is well-positioned to move into an emerging international Earth-centred legal regime because of Maori culture, an environmental law lecturer says.
---