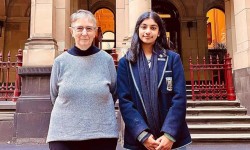 Tuesday - Eight teenagers and an octogenarian nun are in Australian court today to launch what they hope will prove to be a landmark case – one that establishes the federal government's duty of care in protecting future generations from a worsening climate crisis.

Tuesday - European banks should publish a "green-asset ratio" as a core measure of their climate-friendly business activities, says the European Union's banking watchdog.

Tuesday - Official Chinese government figures show energy, steel and cement consumption rose in 2020, pushing emissions up as Beijing is expected to reveal its 2025 targets.

Monday - The leaders of the International Monetary Fund and the World Bank are vowing to step up efforts to combat climate change by looking more closely at climate-related financial stability risk and using other tools at their disposal.

Monday - Updated plans to reduce emissions barely make a dent in the huge cuts needed to meet global climate goals and the United Nations is calling for redoubled efforts.

Monday - Planes sold by Airbus in 2019 and 2020 will produce well over a billion tonnes of carbon dioxide during their lifetimes, according to landmark first estimates of the aerospace manufacturer's emissions.

Friday - Who should pay the huge costs of climate change's damage? There's a case for corporate climate polluters to contribute.
---
Friday - Despite the pandemic slamming the brakes on flying, UK-based engineering firm Rolls-Royce - whose main clients include the aviation industry - has not backed away from its work to slash...
Friday - More fierce and frequent fires are reducing forest density and tree size and may damage forests' ability to capture carbon in the future, according to a global study.
25 Feb 21 - Gas companies in Europe and America are looking at using the existing gas network to serve industrial "clusters" of hydrogen users in sectors like chemicals, cement and steelmaking, adopting a...
25 Feb 21 - One of the instigators of an influential climate initiative for big business has gone public with criticism of its target-setting process, saying it does not measure up to its ambition.
25 Feb 21 - Taxing carbon dioxide emissions would be popular with British voters, polling suggests, as the government moots ways to put a price on carbon that could help tackle the climate crisis and fund a...
25 Feb 21 - Agriculture's impact on the planet is massive and relentless. Roughly 40 per cent of the Earth's suitable land surface is used for cropland and grazing.
24 Feb 21 - Reports that Britain's prime minister, Boris Johnson, is considering calling for carbon border levies at the G7 summit to be held in London in June have produced a predictable reaction from the...
24 Feb 21 - United States federal energy regulators say they will examine threats that climate change and extreme weather events pose to the country's electric reliability in the wake of last week's deadly Texas...
24 Feb 21 - A pilot scheme will use methane from fermenting fruit to create clean power for Serville's city water plant
23 Feb 21 - Australia's' natural gas pipeline owners are working to future-proof their $A75 billion in assets amid a global push towards clean energy, running tests to blend hydrogen with gas and produce green...
23 Feb 21 - Here's the bad news: Unless India opts for a totally new energy policy - a revolutionary switch to a clean future - the world has no chance of avoiding dangerous climate change.
23 Feb 21 - Big companies donated to climate deniers in the US Congress—even while claiming to care about climate change. When those same lawmakers denied the results of the presidential election, the bill came...
---