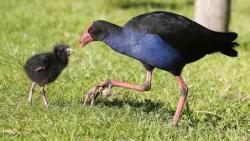 6 Dec 13 - Pukeko, kaka and gulls are the native bird species most likely to cause problems in New Zealandís cities in the future, according to new research.

29 Nov 13 - Glaciers of the central Southern Alps are in a state of rapid change with ice volumes set to reduce by up to 60 per cent by the end of this century, a study by Victoria Universityís Antarctic Research Centre shows.

8 Nov 13 - Massey University researchers have the first convincing evidence that inter-breeding between closely related species (hybridisation) can aid plants during periods of environmental change.
1 Nov 13 - Just over $3 million of this yearís $59 million Marsden Fund will go into climate change research.

27 Sep 13 - By HOLLY RYAN, Science Media Centre. Rising sea levels will receive increased attention from climate scientists today when the Intergovernmental Panel on Climate Change unveils its latest report on the state of the climate.
6 Sep 13 - New findings that show a slowing of global surface temperature warming are no cause for complacency, scientists warn.
16 Aug 13 - Scientists have discovered a super-charged methane seep in the ocean off New Zealand that has created its own unique food web, resulting in much more methane escaping from the ocean floor into the water column.
---
16 Aug 13 - Cutting the amount of short-lived, climate-warming emissions such as soot and methane in our skies won't limit global warming as much as previous studies have suggested, a new analysis shows.
21 Jun 13 - University of Waikato Antarctic researchers Professor Craig Cary and Dr Charles Lee have secured $60,000 funding to lead a year-long international pilot study to develop and validate tools that...
8 Mar 13 - International attempts to curb climate change will be put under the microscope by one of New Zealand's leading climate scientists.
8 Mar 13 - Extensive droughts across parts of New Zealand are part of a long-term trend toward increased frequency of anticyclones over New Zealand, a University of Canterbury weather expert says.
25 Jan 13 - Researchers have found that southern fish can cope with warmer waters, giving some hope for the future of the Antarctic environment.
14 Dec 12 - Climate change predictions made 20 years ago are proving reasonably accurate, a New Zealand expert says.
5 Oct 12 - Potential climate change trends over the next 90 years will be identified and examined in a new, multi-million dollar research project which aims to climate- proof New Zealand.
5 Oct 12 - Recent studies reveal significant warming of the world's lakes.
5 Oct 12 - Emergency management specialists from Massey University's Joint Centre for Disaster Research are to revisit the scene of the Rena oil spill in the Bay of Plenty as part of a $760,000 project...
14 Sep 12 - The High Court has rejected a legal challenge to the Niwa national temperature record.
7 Sep 12 - Not enough notice is being taken of the potential threat of rising sea levels in the rebuild of Christchurch, says University of Canterbury Gateway Antarctic director Professor Bryan Storey.
24 Aug 12 - Environmental research has been allocated more than $16 million in the latest Government science investment round.
---