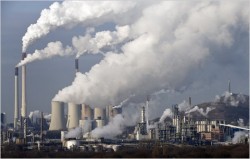 Tuesday - A three-way coalition in Germany is the most likely outcome of a surprising election, putting the Greens in a position to pursue their goal of ending coal power.

Monday - European cities are stepping up their efforts on shared mobility, aiming to reduce traffic jams and pollution while generating the most profitable business in this field on the planet.

Friday - The European Commission is preparing an update of its low-carbon economy roadmap for 2050, acknowledging that the bloc's current target of cutting greenhouse gas emissions at least 80 per cent by mid-century are insufficient.
21 Sep 17 - Ignore Angela Merkel's reputation for supporting green initiatives. The German chancellor's record on environmental policy has been a disaster.

20 Sep 17 - Former UN climate chief Christiana Figures has called on the EU to step up regulatory action against deforestation in the global south by tackling emissions of imported agricultural goods like beef, soy and palm oil.

15 Sep 17 - The European Parliament has approved a plan to keep commercial flights in and out of Europe exempt from the EU's carbon emission controls until 2021.

14 Sep 17 - European lawmakers this week approved a new security of gas regulation, which includes a solidarity principle in case of supply disruptions and will make it more difficult for other countries to "blackmail" the EU's members.
---
13 Sep 17 - French president Emmanuel Macron is set to call for a global pact affirming universal principles for environmental protection at the UN general assembly next week.
8 Sep 17 - Norway has a general election on Monday. The future of its oil industry has become – to the surprise of the three largest parties – one of the most debated and divisive campaign themes.
8 Sep 17 - France has unveiled a law to ban all production and exploration of oil and natural gas by 2040 on the country's mainland and overseas territories.
7 Sep 17 - With less than three weeks until the German elections, pressure is mounting on Angela Merkel to tackle the deadly smog in a large number of cities or face a court-enforced diesel ban and backlash...
5 Sep 17 - Farmers in France have reacted strongly to the government's intention to block the reauthorisation of glyphosate, pointing out the negative effects the ban would have on conservation farming.
4 Sep 17 - Finland is set to embrace a decarbonised future by increasing carbon taxes and introducing laws in 2018 that will begin to phase out the use of coal, with more nuclear capacity waiting to offer an...
30 Aug 17 - Norway wants urban gardeners to cultivate wildflowers and keep hives to reverse a decline in biodiversity.
22 Aug 17 - Foresters are being urged to plant tree species resilient to climate change to save the timber industry as Swiss trees swelter.
21 Aug 17 - Norway has the renewable resources and political will to become the first country to use entirely clean electricity for its power demands.
18 Aug 17 - Supermarkets selling out-of-date produce and apps that identify food at risk of being binned are part of an ambitious plan to slash the nation's food waste
17 Aug 17 - An agreement to link the Swiss and European Union carbon markets could pave the way for other markets to link to the EU emissions trading scheme in future, says the International Emissions Trading...
16 Aug 17 - Despite public denials, the European Commission is considering implementing an electric car quota to be achieved by automakers by 2030.
---