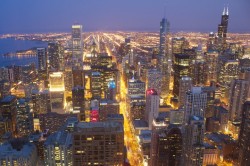 Today 9:00am - The "We Are Still In" movement launched to send a message to US president Donald Trump over his Paris Agreement threat has grown to include more than 1500 businesses and investors, as well as nine states, more than 200 cities and counties, and more than 300 colleges and universities.

Wednesday - On a particularly windy day recently, Denmark's wind farms produced between 116 per cent and 140 per cent of the national electricity requirements ... and they weren't even trying.
Wednesday - About 16 per cent of the US coal fleet has retired in the past five years, but don't expect major new coal-fired plants to fill that void.

Monday - The Louisiana town of Cameron could be the first in the US to be fully submerged by rising sea levels – and yet locals, 90 per cent of whom voted for Trump, still aren't convinced about climate change.

Monday - The Trump administration's reversal of ban on the sale of plastic water bottles in national parks shows 'the corporate agenda is king and people and environment are left behind', say campaigners

18 Aug 17 - Fossil fuel not burnt because of wind and solar energy helped to avoid between 3000 and 12,700 premature deaths in the US between 2007 and 2015, says a new report.
18 Aug 17 - California scientists are sketching plans for a home-grown climate-research institute - to the tune of hundreds of millions of dollars per year.
---
17 Aug 17 - At least 31 Alaskan communities face "imminent" existential threats from coastline erosion, flooding and other consequences of changing temperatures.
16 Aug 17 - Each summer, a large part of the Gulf of Mexico "dies". This year, the "dead zone" is the largest on record, stretching hundreds of miles from the mouth of the Mississippi, along the coast of...
14 Aug 17 - Donald Trump has failed to knock the Paris climate agreement off course, says former US vice-president Al Gore.
11 Aug 17 - California's Inland Empire counties can thank the state's climate change programmes forma net benefit of $9.1 billion in direct economic activity and 41,000 jobs from 2010 through to 2016.
11 Aug 17 - A federal appeals court in Washington has ruled that the Environmental Protection Agency has overstepped its authority in regulating HFCs under the Clean Air Act.
10 Aug 17 - The average temperature in the United States has risen rapidly and drastically since 1980, and recent decades have been the warmest of the past 1500 years, according to a sweeping federal climate...
8 Aug 17 - Staff at the US Department of Agriculture have been told to avoid using the term climate change in their work.
8 Aug 17 - Summer in Arizona and throughout the US southwest is monsoon season, which means a daily pattern of afternoon thunderstorms, flash floods, dramatic dust clouds and spectacular displays of lightning...
7 Aug 17 - Hawaii has started the construction of its first public fuelling station for hydrogen vehicles, and aims to start selling hydrogen-fuelled cars next year.
3 Aug 17 - A sweeping US government report on the state of climate-change science is nearing the finish line, but faces one big hurdle - final sign-off by top officials in President Donald Trump's...
3 Aug 17 - The global meat industry, already implicated in driving global warming and deforestation, has now been blamed for fueling what is expected to be the worst "dead zone" on record in the Gulf of Mexico.
3 Aug 17 - Behind a locked door at a Colorado university, a laboratory sits dark and empty, like a dining room set for a guest who never arrived. In this case, the no-show is a $2 million, 12 tonne machine that...
---