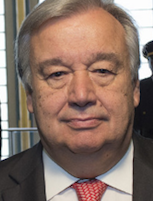 Today 11:00am - UN chief António Guterres wrote to every head of state over the weekend, demanding they set out plans to achieve carbon neutrality by 2050.
Today 11:00am - The climate is changing too quickly for many animals to adapt, threatening their survival, scientists have confirmed.

Tuesday - Forty years ago, a group of climate scientists sat down in Massachusetts for the first meeting of the "Ad Hoc Group on Carbon Dioxide and Climate".

Monday - The world economy collapsed when homeowners couldn't repay subprime mortgages. We're now making a similar bet on 'repaying' carbon emissions.
Monday - A mushroom suit for the deceased during burial offers a way to limit the environmental impact of traditional funerals.

Friday - To feed a global population that's hurtling toward 10 billion people, the world's farms will have to increase output faster and more efficiently than at any point in history.

Friday - Blanketing the globe with monocultures of forests and bioenergy crops is no dream fix to the climate crisis, a leaked draft report by the Intergovernmental Panel on Climate Change warns.
---
18 Jul 19 - Cement is the key ingredient in concrete, which has been called the most destructive material on Earth.
18 Jul 19 - Feeding elephants increase in the amount of carbon that forests are able to store, says a new study.
17 Jul 19 - Almost three out of four companies with a significant footprint on the world's forests have failed to provide data on their impact on global deforestation in 2018, according to a new study.
15 Jul 19 - A group of US philanthropists and investors have donated almost half a million pounds to support the grassroots movement Extinction Rebellion and school strike groups – with the promise of tens of...
11 Jul 19 - About a quarter of the world's highest-emitting, publicly listed companies fail to report their greenhouse gas emissions, new research has found.
11 Jul 19 - Burial uses too much land; cremation releases too much carbon dioxide. So what about composting our loved ones – or even dissolving them?
10 Jul 19 - Climate crisis disasters are happening at the rate of one a week, though most draw little international attention, says the UN.
10 Jul 19 - Climate change and ecological breakdown might one day be viewed with the same universal repugnance as slavery, according to David Attenborough.
9 Jul 19 - The search goes on for solutions to harmful plastic waste but the answer is far from simple.
8 Jul 19 - An increase in heat stress at work linked to climate change is set to have a massive impact on global productivity and economic losses, notably in agriculture and construction, according to UN labour...
8 Jul 19 - Diplomats are losing patience with players like Saudi Arabia blocking progress at international climate talks, instead looking to other forums for action.
4 Jul 19 - China has made its clearest signal yet of an intention to ramp up climate action, pledging to increase its climate targets.
---